Shopping Cart
Your Cart is Empty
There was an error with PayPal
Click here to try again
Thank you for your business!
You should be receiving an order confirmation from Paypal shortly.
Exit Shopping Cart
Give us a call today for all your plumbing needs
Is It Time for Professional Drain and Sewer Repairs?
Do you smell the extremely unpleasant but extremely identifiable odor of sewage in or around your home? Is there standing water in the lowest level of your property? Are your toilets backing up? Your sinks refusing to drain throughout the entire house? Such problems mean only one thing—that it is time to dial our number and schedule professional drain and sewer repair.
Not only does a sewer leak or backed up drains put your convenience and your property at risk, but they can also put your health at risk. Waiting, or ignoring such problems will only give them the time that they need to get worse, and the fact that the problems are now so obvious means that they've probably been in development for some time. Do not wait a moment longer than necessary before schedule your drain and sewer repairs with us.
Do Drains and Sewers Need Maintenance?
Yes, they do. While they are not mechanical systems with moving parts, your drain and sewer lines can benefit greatly from routine drain and sewer maintenance services From flushing out your drain and sewer lines with high–pressure jetting equipment to peering deep within the system with our video pipe inspection equipment in order to look for problems, we have the maintenance solutions that your drains and sewer need.
Will this completely eliminate the risk of eventual drain repairs and sewer repairs? No, and any contractor telling you otherwise should not be trusted with your business. What it can do, however, is keep any problems with the system to a minimum, while also allowing us to catch potential problems early on. Contact us today for all of your drain and sewer services
Is Your Main Sewer Line in Trouble?
Your main sewer line, while you likely don't give it much thought, is one of the most, if not the most, important component of your plumbing system. This is one of the two main plumbing lines connected to your home. Your main sewer line is responsible for removing all of the wastewater from your home and moving it into your city's civil sewer system. Since your main sewer line is hidden underground, it can be quite easy to forget about… that is until trouble arises.
The Importance of Hiring a Professional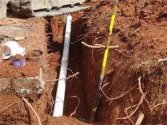 It is important to hire a trained professional for all your plumbing needs and especially for any repairs that occur underground. Only an experienced and licensed plumber has the knowledge, and the tools, to properly diagnose and repair complex plumbing issues.

Your main sewer line is one of the most important components of your plumbing system, so it is important to treat it as such.

0

/