Shopping Cart
Your Cart is Empty
There was an error with PayPal
Click here to try again
Thank you for your business!
You should be receiving an order confirmation from Paypal shortly.
Exit Shopping Cart
Give us a call today for all your plumbing needs
A misguided thought people often have is that it's okay to pour grease down a garbage disposal. The disposal does not have a special mechanism inside of it that destroys the grease, and the blades won't have much effect either. Instead, the blades will become less effective after repeated coatings of grease.
A few warning signs that will alert you of an impending blocked drain include slow drainage, gurgling noises coming from the drain, and a bad smell. If you can't seem to get rid of the clog yourself, call in a plumberto take care of the problem.
As a homeowner, you know how important it is to keep the drains clean and free of debris.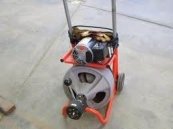 However, drain cleaning is not always as easy to do as one might think. And, liquid drain cleaners have proven to be very ineffective.

Over the years, substances we pour down the drain eventually stick to the sides, and the drain becomes smaller.

more

Grease and oil should never be poured into a drain. They are the main culprits of drain clogs. Outside drains can also become clogged by tree roots.

As strange as this might sound, it's not a rare occurrence. Tree roots can grow into the outside sewer pipes.

A professional plumber can best determine the cause and best solution of a drain clog…whether inside or outside.

If tree roots are causing the blockage, an electric snake unit will be needed to clear the roots and restore drainage to your home. Cleaning out the pipes with a snake may need to be performed on an annual basis, depending on what type of use your drains receive.

Inside, professional plumbers clean all types of drains including toilets, tub and shower drains, and floor drains. They have the tools and supplies needed to quickly, safely and effectively unclog the drains.

So if you have a stubborn clog that will not drain, you are probably best served to contact an experienced, local plumber

0

/